Estate Merlot Vertical LIBRARY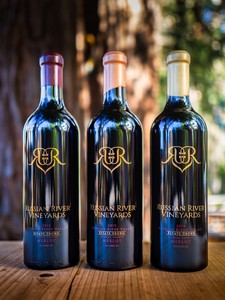 These wines come from our Legacy Estate Merlot vineyard, which was first planted in 1963, and interplanted with Cabernet a decade or so later. As winemakers would now agree, it was not a good location for Merlot or Cabernet grapes. It was too cold, among other challenges. But this odd, hybrid vineyard is what Anthony Austin, RRV Winemaker at that time, and his apprentice, current Winemaker Giovanni Balistreri, inherited when they took ownership of the estate in 2008. The previous owners had struggled with the vineyard, managing to ripen the grapes only twice in the previous ten years. And even that minor success was only with the Merlot. The Cabernet had consistently failed.
From this singular & unique vineyard came several vintages of Merlot wines that are as distinctive as the vineyard itself. The cool weather slowed the ripening and increased the acid levels well beyond that of a typical Merlot. The result is a Merlot with higher acid that can soften over a long period of time and is uniquely structured to age beautifully.
The interplanted Cabernet vines produced only a tiny amount of grapes. But in a very unconventional move, those grapes were combined with the much larger quantity of Merlot, thereby adding a unique structure to the tannins that you won't find in other Merlots.
The final product is a set of Merlot wines that are unlike any other you will drink. Exquisitely balanced, moving from the 2016 with its still-lively fruit, to the 2015 with its intriguing complexity, and finally the velvety smooth 2014. These wines have stood the test of time, but have plenty of life left in them still.
Product Reviews