Estate Pinot Noir Vertical LIBRARY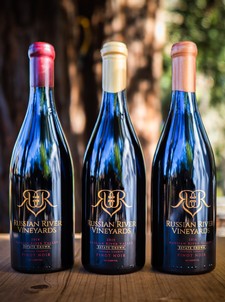 The legacy Pinot Noir vineyard that we inherited in 2008 remained a bit of a mystery to us right up until it was removed in 2017. It has been presumed that the grapes were all Dijon clones. But records are scarce, so it's fair to say that most of our knowledge of this vineyard came from our experience of farming it and the flavor of the wines made from the fruit it produced. When we began, the vineyard had been neglected and was badly overgrown. The conventional wisdom said we should tear it out and start over. But the Winemaking duo of Anthony Austin, RRV Winemaker at that time, and his apprentice, Giovanni Balistreri, who took the reins as Winemaker in 2012, are farmers. And their instinct was to revive the vineyard. So with copious amounts of effort and loving care, the vines were coaxed back to a level of productivity that could produce premium wines.
And those wines became a showcase for the signature winemaking style that Anthony passed on to Gio. This style is characterized by fastidious attention to detail in the winemaking process as a whole, what would later become known as an "earth to glass" process. But the style is more specifically applied to Pinot Noir, which is Anthony's first love among all the varietals. The Pinot Noirs were purposefully created to embody the balance & complexity that Pinot Noir grapes express so eloquently. The three remaining vintages of this wine are a showcase of what the aging process contributes to a wine. They were built to age, and they are aging magnificently.
"Something André Tchelistcheff taught me is that you've gotta have balance when you start to have balance when its finished." - Anthony Austin
It is the balance, which is so critical to making excellent Pinot Noir wine, that sets these wines apart. Over the course of the aging process, the prevalence of the fruit gives way to the esterification process, which in turn brings new aromas and textures to the wine. But the essential balance and structure of the wine when it is created is what makes the wine "age-worthy". These wines are entering their prime, but they will likely continue to improve for another ten to fifteen years.
Product Reviews