Junior Achievement Holiday Bundle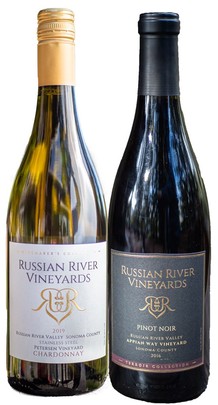 2019 Chardonnay | Petersen Vineyard Stainless Steel
Award winner for back to back vintages, this is a very special Chardonnay!
The successor to the winner of best white wine at the 2019 Sonoma County Harvest Fair, this wine carries on the tradition, winning best in class at the 2020 East Meets West Wine Challenge. 100% stainless steel aging means no influence from oak barrels, so the winemaker can accentuate tropical notes and fruit flavors over the soft, buttery textures of oak-aged Chardonnays. It is a bright, crisp wine with strong fruit flavor and a very subtle sweetness.
Winner, East Meets West Wine Challenge:
Best of Class - 96 rating
Double Gold - 96 rating
2016 Pinot Noir | Appian Way Vineyard
A hugely aromatic wine with notes of blueberry, blackberry, and spice. A smooth but strong, prevalent texture with elegant balance. Appian Way vineyard sits in an ideal growing location, with well-drained goldridge soil allowing roots to flourish, producing remarkably consistent high-quality fruit. Drink it now or in 5 to 7 years. This Pinot Noir will have you at first sip, with its rich, bright fruit.
Pair this voluptuous Pinot with pan-roasted rosemary chicken and mushroom risotto.