Russian River Vineyards VIP Virtual Tasting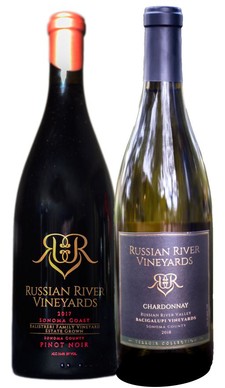 2017 Pinot Noir | Balistreri Vineyard
From the Balistreri Estate Vineyard, where our Winemaker's love affair with his craft began in his teenage years, comes this rich & complex Pinot Noir. Presenting dark, ripe fruit on the nose with subtle herbal notes, your first sip of this wine will convey its complexity. An overtone of smokiness accompanies the strong dark cherry and blackberry flavors to coat your palate, followed by hints of tea and spice. The tannin structure and exquisite acid balance of this wine give it fantastic aging potential, so enjoy it right away or age for up to 10 years.
2018 Chardonnay | Bacigalupi Vineyard
An unmatched heritage. This wine is made from the budwood of the vines that produced the California Chardonnay that rocked the industry by winning the infamous "Judgment of Paris" wine tasting in 1976. And the quality has persisted. This wine features floral aromatics with hints of vanilla and a subtle sweetness infused by aging in French Oak.
Swirl in your glass and enjoy notes of white peach, honeysuckle, crème brûlée and jasmine on the nose, with plenty of fruit on the palate, balanced by a delightful pop of acidity. One of the few Chardonnays built to age, age this beauty over the next 5-10 years—or even longer!
Click "add to cart" to secure your complementary wines for our VIP Virtual Tasting Feb 26th at 5:00pm PST
Product Reviews