The Elegant Estate Gift Bundle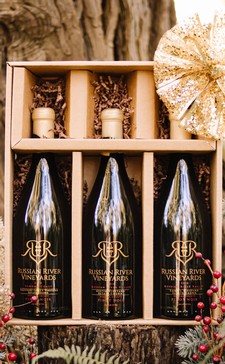 Time to spread some Holiday cheer with our Russian River Vineyards Estate collection! Nothing beats the look of complete joy on a loved one's face when they open your present. Our Estate collection of 2018 Balistreri Family Vineyards, 2018 Austin Estate Grown, and 2018 Emma's Vineyard Pinot Noirs is the perfect surprise for wine enthusiasts or those who enjoy a glass here and there. These high-quality wines are filled with complex flavors of ripe fruit complemented by subtle hints of spice, make them the perfect gift for family and friends.

The Elegant Estate Pack includes our 2018 Balistreri Pinot Noir, our 2018 Austin Pinot Noir, and our 2018 Emma Pinot Noir.
Product Reviews